Con Report: DragonFlight 2014
So DragonFlight is a small tabletop gaming convention, run by Seattle Metro Gamers, and held annually in Bellevue, WA. This year it was August 8-10, the weekend after KuroNekoCon.
I knew it was a risky venture — I'd never done this sort of show before, it's outside my usual, and expected attendance was low compared to most anime or comic cons at ~500 — but it's more or less local, and I convinced Xib to give it a shot with me, so at least I'd have company. I was hopeful that the roleplaying crowd would have plenty of original characters to commission sketches of, and I also figured I'd be able to do some promotion for 'Souls RPG, the collaborative writing roleplay I help run.
This report is 4,098 words long.
Jump to: Pre-Con, Friday, Saturday, Overall.
Pre-Con
When I stumbled over the convention initially in March, the information on their website hadn't been updated yet for 2014, and their website in general looked like it was stuck in 1995 or so in terms of layout and functionality. General info was sparse and confusing, and it was hard to tell if contact info was outdated or not, since they seem to create new emails on a yearly basis (with addresses like dealers2012@dragonflight). DragonFlight has been around since 1980, so the outdated web practices weren't surprising. This is the opposite of KuroNekoCon, run largely by college kids younger than me; DragonFlight is run by the generation before me.
I emailed the general info email and received a pretty prompt response back from Amy, the Dealer's Room coordinator, that they weren't accepting applications yet. DF doesn't have a separate Artist Alley, but vendors of all sorts are apparently welcomed in the DR. Spaces were $110 for a 6′ table and two badges.
At the beginning of June, I noticed that the website had been completely overhauled with a slicker, modern layout, and that registration and event scheduling were being run through a third party (Eventbrite). I pinged them again about dealer registration and was sent an application a few days later. I emailed back the application and got an invoice in another few days. Painless all around.
Eventbrite sent out a bunch of emails about the show in July, and Monday before the con, I emailed Amy about setup and public hours. She again responded back pretty quickly, then sent out a general vendor email with some additional information.
FRIDAY
Setup Friday started at 10am, but the room didn't open to the public until 2pm.
That was plenty of time, so Xib didn't pick me up until around 10. Traffic was very light, and we got to the Bellevue Hilton from downtown Seattle in about 20 minutes. It was kind of weird being back at that Hilton, since the last time I was there was for the disaster that was Aki Con 2012. I didn't look too closely at the parking garage when we passed it, but there were cars in it, at least, instead of tables and other stuff.
The DragonFlight Dealer's Room was in the first partition (of four) of the main ballroom on the lower floor of the hotel. Registration was right by the lower level's entrance and they directed us towards the ballroom for vendor badge pickup. When we pushed open the door, Amy, the Dealer's coordinator, was there and immediately greeted us with, "You're Kiri and Xib, right?" We'd never met, so that was kind of creepy! But she explained that it was process of elimination, since we were the only vendors she hadn't met yet.
It was a challenge figuring out how to set up since Xib and I were going from each having our own 8′ table at KuroNekoCon the weekend prior to needing to share a 6′ table, but we made it work! More or less. I was trying a new thing with my letter-sized prints (individually boarding and sleeving them for display), but unfortunately that new thing took up a lot of space. Xib always insists that he doesn't care if I have my Fake Lemonade Stand banner up when we share tables, since he doesn't have a banner anyway, but I think ditching it this time was a good call because we really had no room, haha.
Since we got there so early, we finished setting up with more than an hour to spare. When we'd arrived, only one other vendor was there. When we finished, there were maybe four or five other pairs or small groups, all in the process of setting up. The vendors erecting bookshelves of tabletop RPG books and board games, I expected, but I was pretty surprised to see a fandom tea blender, Friday Afternoon Tea, amongst the other vendors. There was also a leatherworker, a steampunk jeweler/metalworker, and a builder of adorable little terrariums that also housed tiny miniatures.
The Dealer's Room was pretty small. There were only 12-15 of us total (I never got an exact count, since some vendors took up multiple spaces), and the other three partitions of the ballroom were being used as the main game room. All the vendors were lined up against the walls, and the middle of the room had two round tables and one long table (see above) to be used for game demos.
There were also some vendors out in the hall, including one fantasy artist. I think most of the others out there were promotional groups though. Just outside of the hall, the Hilton had available a variety of conference-style, semi-catered food options, including pizza and sandwiches and salads (similar to what they had at Aki Con in 2012). Apparently, some of the proceeds from these food sales went to DragonFlight. Upstairs on the main floor of the hotel was a Tully's Coffee and the hotel restaurant, so food options were fairly decent overall.
At 2pm, there was no real indication that the Dealer's Room had opened except that the gatekeeper was no longer shooing people out.
The flow of attendees into the room was minimal, and certainly no one had been waiting around for us to open. Instead, all the action and interest was concentrated in the game room, where there were end-to-end rows of tables filled with people running various board and card games. Out across from registration, there were more game tables. Out by the bathrooms, more game tables. There were signs noting that various other games were on the upper floor as well. Everywhere, tabletop games.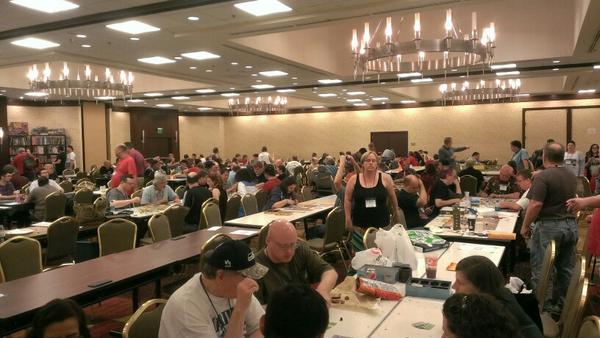 In the first hour, I got several inquiries from game makers about doing art for their games and roleplay books. New contacts and potential future gigs are great, but I tend to be skeptical about them until project details are on the table and a real dialogue starts. At the business card exchanging stage, these jobs are still mythical beasts to me. What I really wanted from the con was at-con work and at-con sales. Something real and substantial to keep me busy in the present. Unfortunately, traffic was absolutely abysmal throughout the day.
They actually opened up part of the wall partition between the Dealer's Room and the game room so people could pass through more easily, but this didn't actually improve anything. There was never more than ten attendees wandering through the DR at any given time… And those that did come by did not seem very interested in browsing, shopping, chatting, or even making eye contact. It was the most disinterested crowd I'd ever seen.
Shy and awkward can describe a great many con-goers, and I think I'm pretty used to dealing with shy and awkward. I am also shy and awkward. I get it.
There are conventions where I feel a bit out of place (furry cons) or at a loss as to how to connect with attendees (most comic cons), but this was the first where I felt that people were…standoffish? Condescending? A majority of those that passed by the table wouldn't return basic greetings and rushed on as soon as they noticed that we noticed them. This in and of itself isn't super atypical, but it was, admittedly, more jarring to see from grown men in their 40's than teenagers, and the former was what DF's attendee pool was comprised of.
The main crowd for anime cons is squarely in the teens and early 20's demographic, with a smattering of older folks, but it's very diverse in terms of gender and race. The crowd for furry cons is older, 20's-40's maybe, but still very diverse. The crowd for comic cons combines everything, with people of all age groups and backgrounds. DragonFlight seemed to be primarily white men in their 30's-50's. It was the most homogeneous crowd I'd ever seen at a convention, and also the demographic I've sold to the least, but surely not for lack of trying.
I don't doubt that some of it may have been paranoia, but I got the distinct feeling that most passed by our table, judged harshly, and moved on, even before we could get a word in. It was weird. And discouraging.
Not everyone was like that, of course. The small handful of people who did actually stop by our table for more than a second were very nice and polite, teven if still very shy and awkward. One guy was super enthusiastic about both Xib's and my art, and that made us both feel better about things for a while, but sadly, the multitude of briefer, negative interactions stick with me more. It's hard to shake the feeling that you're not really welcomed.
I was disappointed, too, that I felt like I couldn't really promote 'Souls in the way that I wanted. The RP board has gotten a lot more diverse in the last few years, but there's no pretending that it isn't still a majority women and queerfolk in their teens and 20's. I don't know how to pitch that to an older, cismale crowd, but few stopped long enough at the table for me to mention it, and honestly, the demographic clash was so obvious that I'm sure that even if anyone had checked out the board, they wouldn't have been interested anyway.
Both Xib and I had one commission each the entire day and could count total sales on one hand. As usual, I found it maddening to be at the table with nothing to do. I took some sketch requests from Twitter and spent as long as possible on the one commission, but ultimately still spent a lot of time doing absolutely nothing and feeling bad about it.
Three other conventions come to mind when I think about painfully slow shows: EXPCon 2009, Delta H Con 2010, and Aki Con 2012. All of these were anime cons though, so at least I could relate to the attendees, enjoy the cosplayers, and bond with other artists in our collective misery.
EXPCon was one of my first conventions, so I was still learning a lot. That con also happened to be over the weekend of a hotelmate's 21st birthday, so we found other ways to entertain ourselves through the otherwise lackluster weekend, lol. During Delta H Con, all seven of us in the Artist Alley were so bored, we mostly spent the weekend commissioning each other and chatting a lot, but at least it kept us entertained. Aki Con went similarly, with me keeping busy with art trades and doodles until things finally sort of picked up Sunday.
DragonFlight though… I felt out of place enough that I didn't really feel comfortable mingling with others.
As a show run by Seattle Metro Gamers and which has been around for many, many years, it seemed that a lot of people already knew each other. Amy, after all, greeted me and Xib by name by process of elimination, and even though there were several first time vendors there, my guess is that they'd been around the game group or otherwise knew people in it. Most of the vendors in the back of the room chatted heartily amongst themselves throughout the afternoon.
Things were going slowly for everyone though, so I guess my out-of-place feeling wasn't the only contributing factor. It was obvious that the crowd at DF just wasn't there to shop or buy. They were there to play games.
Xib's partner Vinty showed up an hour or so before we closed for the day (7pm), so afterwards, we all went to dinner at Lunchbox Lab. My spiked milkshake wasn't spiked enough.
SATURDAY
After mulling over some things Friday night, I decided to come prepared Saturday with things I could work on if it was dead again. Namely, I was going to work on the silly 10-page Yowamushi Pedal doujinshi I had thumbnailed out on a whim a week or so prior.
I think I've had a hard time entertaining myself at the table recently because I filled up my little sketch commission examples binder a few cons ago and now have no where to put new examples, so there's less incentive for me to work on more. I have plenty of room for more ACEOs, I suppose, but I've had a harder time thinking of interesting compositions for the small space. Even I get tired of drawing floating heads sometimes… but I keep remembering that in my last quarter of college, I did three conventions while busting out pages for senior project, so there was definitely a time when I could do more substantial work at the table.
So I brought paper for comic pages and tried to be as optimistic as possible about Saturday, which had hours from 9am to 7pm.
In the first hour we were open, we had two people look at our table for more than a few seconds, and I penciled two pages of comic.
In the second hour, I penciled two more pages. By the end of the third hour, I had eight pages penciled. Meanwhile, we'd had zero sales. I felt a ton better having something to focus and work on, but I felt really bad for having dragged Xib in with me. He was doodling and listening to music, but he was obviously still bored out of his mind. I'd never seriously considered not coming back for the last day of a convention before, but I considered it then. Even EXPCon, even DHC, even Aki Con, I came back Sunday. For those cons, I still had hope, somehow.
DF… honestly, I feel bad about the whole ordeal because DragonFlight itself was not a bad convention.
It's small and intimate and they used the space well. The showrunners are organized and Amy was helpful, accommodating, and understanding in every conversation we had. The attendees were there to game, and it seemed, for the most part, that they were having a good time doing just that. They even had free badges for visitors, which seems like a neat idea. Visitors were free to mill around the show and visit the Dealer's Room, but they couldn't participate in any games. I think DragonFlight probably a great show to go to as an attendee if you're into the genre and have some friends to bring along with you.
But it's not a show for vendors.
The Dealer's Room remained dead through Saturday afternoon. I heard one attendee remark that the games in the DR weren't "priced competitively," which is why they weren't buying. The demo tables in the DR weren't being used all that much, especially compared to the game tables in other areas of the con.
Since I was too shy and awkward to chat much with the other vendors, I can only speculate as to how everyone else did, but the easy guess is that a dead DR meant few sales all around. Xib and I made our first sale at 1:30pm, more than four hours after DR opened. In the mid-afternoon, I briefly considered packing up and leaving before we even closed for the day. Even with my doujin to work on, I was getting restless and feeling perpetually guilty about Xib's boredom. At some point, he swapped to reading an ebook on his iPad, and he went an hour or two without interruption because there was nothing to miss.
Around 6pm, I stopped working on the doujin because my general irritation with the con was leaking through and my work was getting sloppy. We coasted through the last hour, then tore down. We weren't coming back to vend Sunday. I was convinced that it would be a complete waste of time to spend another day sitting at a table no one was looking at.
Amy was incredibly understanding about this, which I really, really appreciate. She mentioned that it was always kind of hit or miss with artists — that sometimes they'd do really well, and sometimes not so much. I should have really asked more about how other vendors usually did, and whether this was just an off year for everyone, but I didn't have the energy to.
I entertained the idea of going back to actually check out the rest of the convention Sunday since, again, it did seem like a good con for attendees, but my apparent inability to mesh with the crowd made me nervous. It's one thing to go to these things with friends, play games, whatever. It's weird to go by yourself, maybe doubly so after already being made to feel like an outsider.
The nail in the coffin came, though, when Xib dropped me off at my apartment and I discovered that the elevator in my building was broken. I live on the top floor. And so after dragging 140+ lbs of luggage up five flights of stairs by myself, I decided I was pretty much done with the weekend.
OVERALL
From a vending perspective, DragonFlight was a huge bust.
I absorbed the cost of Xib's half of the table because I felt so bad about the whole thing. Neither of us lost money ultimately, but we sure did lose time. I guess we got a learning experience though.
It's really too bad, because it seemed like the show could have worked out if things had been just a little different, if the crowd had been a little more diverse and open, if a bunch of a little things. It still surprises me that there weren't any roleplayers wanting art of their characters, or if they were, that they never came to the Dealer's Room. I overheard here and there attendees mentioning that this was their first time breaking away from their game tables to see the DR, but even when they got there, their browsing was brief; they were mostly disinterested.
The tabletop crowd is probably closest to the sci-fi/fantasy crowd. The only SFF con I've done is AggieCon 2011, where I did reasonably well by being the only person in the room doing commissions, and that's the main reason I had hopes for DF. I think AggieCon being a college con skewed things though, and there were definitely more younger attendees there than at the typical SFF con. There weren't a lot of teenagers at DF. Most of the kids there were in the 6-13 range and were the children of older attendees. And of course, children under 13 are the people I am most uncomfortable with, haha…
Pros
Old, established convention. DragonFlight has been around for more than thirty years, and there's an amount of stability and experience that comes with that.
Staff communication & professionalism. Amy, the Dealer's Room coordinator, is also apparently a Vice President of the show and the Convention Director, always responded to emails within a day, was good at answering questions, and overall just a nice person who was pleasant to deal with. I feel pretty bad that we abandoned ship early, but she was very understanding about the whole thing, which I'm still thankful for. All of the other staffers I encountered at the con were also very kind.
Venue space & usage. The Bellevue Hilton doesn't have a whole lot of space, which is one of the reasons Aki Con had such a hard time there, but for the much smaller DragonFlight, the space worked really well. The DR was in a pretty prominent location, right by the entrance, registration, and the main game room, and there was potential for good traffic flow if anyone had actually cared about DR. Parking at the Hilton is normally $20/day, but for DF attendees, it was just $3/day, and you could get a validation ticket at registration, nice and easy. Convenient on-site food options are also always a plus.
Free visitor badges. I think badges for the convention were $35/weekend, but I really liked that they allowed visitors to watch and mingle for free. It's a good way to encourage passersby to check things out while still keeping tabs on everyone at the convention.
Small Dealer's Room. Though I'm sure part of it is lack of interest in the DR, it was good that the DR wasn't bigger than it was. 13-15 vendors is plenty for the ~500 attendee crowd. They didn't even have different vendor badges because there were few enough of us that Amy and the DR gatekeeper relied on sight to recognize who was and wasn't supposed to be in there before and after hours.
Secure Dealer's Room. The DR was locked down after hours every night. Vendors out in the hall could keep whatever hours they wanted (and you could choose where you wanted to be when you registered), but the one artist outside always hauled their display stuff into the DR when it closed, and that was allowed and fine too.
Overall organization. From what I could tell, DragonFlight was a pretty well-run show. Registration lines weren't long; visitors could get free badges fairly quickly, etc. There were a few speedy announcements shouted unsuccessfully over the din of the game room Friday, but later on they got the intercom system working for announcements.
Cons
Very disinterested crowd. It became very obvious very fast that no one was really interested in shopping at DragonFlight, whether it was for games or art or other things. They were there to play games and that was it.
Very homogeneous crowd. Even without making generalizations about individual demographics, it's easy enough to say that the more diverse a crowd is, the better. I think most artists have a pretty good idea of who their work appeals to the most, and while we'll do our best to sell outside of that audience, mileage will vary. For me, I don't think I've ever met so much resistance trying to get people to stay at the table for more than a few seconds. If the middle-aged, white male audience isn't your best one, you're probably going to struggle here.
Attendees not familiar with art/commissions. It's been a while since I've encountered so much confusion about on-site commissions, and it clearly stems from these attendees' lack of experience with artists at conventions. We had several people not understand the difference between prints and commissions, including one person who asked for a BW inked version of one of my prints and was confused when I quoted a price far higher than the cost of the print. Custom-made originals are gonna cost more than printed reproductions, guys, and I don't make BW prints of stuff I finished and colored…
Truthfully, the pros outweighed the cons, but the first con is an absolute deal-breaker. For a vendor, it doesn't matter how well-run and organized a convention is if they can't engage the crowd or make sales.
I feel really lucky that I didn't lose money on this, and I'm glad that I got as much work done on my doujin as I did Saturday. Mostly though, I feel bad that DragonFlight didn't go well, especially since it was no one's fault.